You know it is getting exciting when I have a blog entry sparked by a single episode of a (non-SNL) tv series.
Perhaps no show uses guest stars, and particularly straight up stunt casting with the frequency and extremity of How I Met Your Mother. That continues tonight with the use of Mrs. Katheryn Brand herself, the third Deschanel sister, Katy Perry. And so, in preparation of this California Gurl potentially fulfilling Ted's Teenage Dream (yeah, I went there), let's look back at the major stars HIMYM has brought in before, and grade them on how well they inserted themselves into the show's mythology and incorporated themselves with our Core Five.
Note that we're looking at stunt casting guest stars primarily. HIMYM uses a lot of guest stars. Ashley Williams, Sarah Chalke, Jennifer Morrison, and Laura Bell Bundy have all had significant arcs, mostly as love interests for Ted (although this has not been a significant storyline for Bundy. It actually just mysteriously disappeared after one episode) but they were cast because of their acting talent, and not because they were drawing in eyes. And while the significant others of Josh Radnor, Alyson Hannigan, Colbie Smulders, and Neil Patrick Harris have all popped up, none of them are big enough stars for people to tune in for them. So this is really just looking at those guest stars that got promo-ed like crazy by CBS. And no, Jayma Mays was not a significant star in 2005.
Camryn Manheim was our first significant guest star, as the title character in episode 7 of season 1, "Matchmaker." Not quite A-list, but a known TV figure early in the first season is something, and Manheim was solid in her role. B.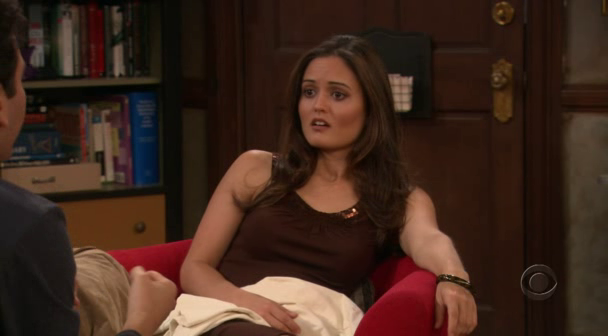 It was a while until we had a really big deal star, but personal favorite Danica McKellar stopped by, along wit The 88, George Clinton, Jane Seymour, Bryan Cranston, Wayne Brady, Emmit Smith, and Bob Barker.
The season 3 premiere, "Wait for It," is where the stars started rolling in. The episode featured Mandy Moore and Enrique Iglesias. Moore played the virtual opposite of what most people associate with Mandy Moore, and did it rather well. A-. Iglesias had a two-episode arc and, while irritating, did fit in well and played a necessary character in the storyline of Robin. A-.
McKellar came back in season 3 and brought with her a pre-Cougar Town Busy Philipps, which was followed by an appearance by John Cho, former costar of both Hannigan (American Pie movies) and NPH (Harold and Kumar movies).
"The Yips" brought in a plethora of Victoria's Secret models, including Adriana Lima, Marisa Miller, and most importantly Heidi Klum. You'll never hear me complain about Victoria's Secret models, but they were mostly filler outside of Klum. And while Heidi seemed like a model trying to act, she did it decently, and sold a straight faced joke in German. B+.
Vanessa Minnillo popped up at what would turn out to be a rather important St. Patrick's Day and was not all that good. It was a weird role in which we only really saw what a wasted Ted was seeing from Minnillo, but given her relatively impressive appearance on 30 Rock last week, it's clear she could do better. C.
The single biggest stunt casting bit appeared in season 3's "Ten Sessions," where Britney Spears made her first of two appearances. In this first episode she was a minor character with a few funny lines, and it brought HIMYM the ratings they needed to live on for another season. But bringing back Spears for a second episode, "Everything Must Go," later that season, was not good. She had a larger part, as Barney pretended to propose to her which she accepted and believed with an "Erin from The Office" level of stupidity. After having a minor and comedic role in her first appearance, she dragged the show down in her second. C.
"Sandcastles in the Sand" brought in James Van Der Beek to play the anti-heartthrob he was as Dawson. In fact, he may be one of the strongest cameos ever, as he opened up a whole new element of the HIMYM universe. A.
Will Forte popped up for the first time in season 3, followed by Regis Philbin and Jamie-Lynn Sigler.
"Benefits" was an episode that seemingly existed solely for the purpose of stunt casting and rating bumps. A relatively mediocre episode overall, CBS promoted the guest appearances of Kendra Wilkinson, Heidi Montag, Spencer Pratt, and Kim Kardashian. The promotion worked, it remains the single highest rated episode of HIMYM. The cameos? Quick one liners as magazines coming to life to talk to Marshall as he walks to the bathroom. Yup, that was it. They added nothing. D.
Kenny Rogers made an audio-only cameo, followed by Alan Thicke, Chris Elliot, Joanna Garcia, and an audio appearance by Harvey Fierstein.
"Girls Versus Suits" was the show's 100th episode, and featured three separate cameos. Rachel Bilson was very strong as Ted's brief love interest and (SPOILER ALERT) the "mother's" roommate, and equally strong when she appeared again this season with a surprise twist. A. Tim Gunn played himself as Barney's suit doctor in an absolutely brilliant gag where Gunn first showed the comic chops he'd later show off in the Emmy opening. A. The weakest guest appearance was by Stacy Keibler as a hot bartender. That was basically the gag. She didn't like guys in suits and Barney wanted to sleep with her. B.
Amanda Peet, Jim Nantz, and (in what I find to be an odd and overplayed in the episode cameo) Nick Swisher came by in the next two episodes.
Next came Carrie Underwood as the girl that Ted was "hooked" on. She wasn't good. That's about as nice as I could put it. The material wasn't there and she basically stood there and looked pretty. D.
The next episode featured another appearance by an attractive singer associated with American Idol, Jennifer Lopez. While she too had a weak storyline, JLo sold it well, and made for an intriguing character. B+.
Peter Bogdanovich, Will Shortz, and Arianna Huffington appeared together as themselves, followed by Jason Lewis, Malin Akerman, and Chris Kattan as actors in a film about Ted's failed wedding. Another personal favorite, Judy Greer, also popped up in that episode.
This season hasn't seen a major guest, but has featured appearances by Bilson, Brady, Ben Vereen, Maury Povich, Forte, Kyle MacLachlan, Nicole Scherzinger, Thicke, Jorge Garcia, and Alex Trebek. Which brings us to tonight.
So which fellow music star will Perry follow? Will she be solid like Lopez, fall flat like Underwood, or split the difference like Spears? We'll see.